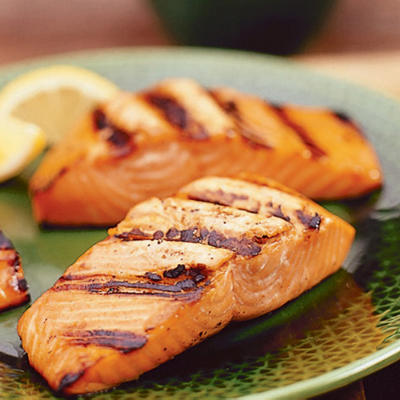 Summer's here and that means BBQ time. There's nothing quite like some grilled salmon fillet over hot coals.  There are many ways to prepare your fish, but doing a simple Asian marinade is a great way to pack even more flavor into your grilled salmon. We've provided a few different Asian marinades for you to try, or even come up with your own.
If you're local, please stop by during our July Anniversary Special to pick up some salmon fillet at a great price… if you're not, your local fish monger can always help you pick the perfect fillet for grilled salmon.
Ingredients
1 1/2 to 3 pounds salmon fillets, skin-on (figure 1/3 to 1/2 pound per person)
Canola, olive, or grapeseed oil
Marinades
Basic marinade:
3/4 cup soy sauce
4 garlic cloves, minced
Basic teriyaki marinade:
1 cup soy sauce
1-inch nob of fresh ginger root, grated
4-5 cloves garlic, crushed
2 to 4 Tbsp brown sugar
Teriyaki marinade with mirin:
1/2 cup soy sauce
1/4 cup mirin (sweet Japanese rice wine) or seasoned rice vinegar
1/4 cup brown sugar
2 Tbsp minced garlic
2 Tbsp minced fresh ginger
1/4 cup minced green onions
2 Tbsp vegetable oil
Pinch chili pepper flakes
Yakitori marinade with sake:
1/2 cup sake
1/2 cup soy sauce
1/2 cup mirin
2 Tbsp finely grated fresh ginger
2 cloves garlic, minced
A dash of red chili pepper flakes
1/4 cup white sugar
Directions
1. Cut fillet pieces into 1.5 to 2 – inch wide pieces and remove any bones you feel when you run your fingers over the fillet. Note: you can always ask a good fish monger to do this for you if you don't want the hassle.
2. In a medium bowl, combine the ingredients for the marinade of your choice.
3. Place the marinade in a shallow, nonporous dish and place the salmon skin side up in the marinade. Cover and marinate in the refrigerator for 20 minutes (for a fast marinade) to up to 2 hour.
4. Preheat an outdoor grill for medium high heat and lightly oil grate.
5. Starting with the skin side up, grill the fish for about 2 to 4 minutes, being sure to close the lid to retain the heat. Once the fish is on the grill, do not move them until they're ready to be flipped over. After 3-4 minutes, look for nice defined grill marks and carefully flip the fillet over (skin side down using tongs or spatula) onto a cooler part of your grill, or turn your fire down to medium. Grill with lid on for 2-5 minutes, depending on the thickness of the fillet. Once opaque all the way through, you're all done.
Grilled salmon is so good, and not all that tricky. Patience is the key. It's also better to under cook grilled salmon than overcook it. Once it's over cooked, and dry, you can't go back.
Happy Grilling!
Comments
comments