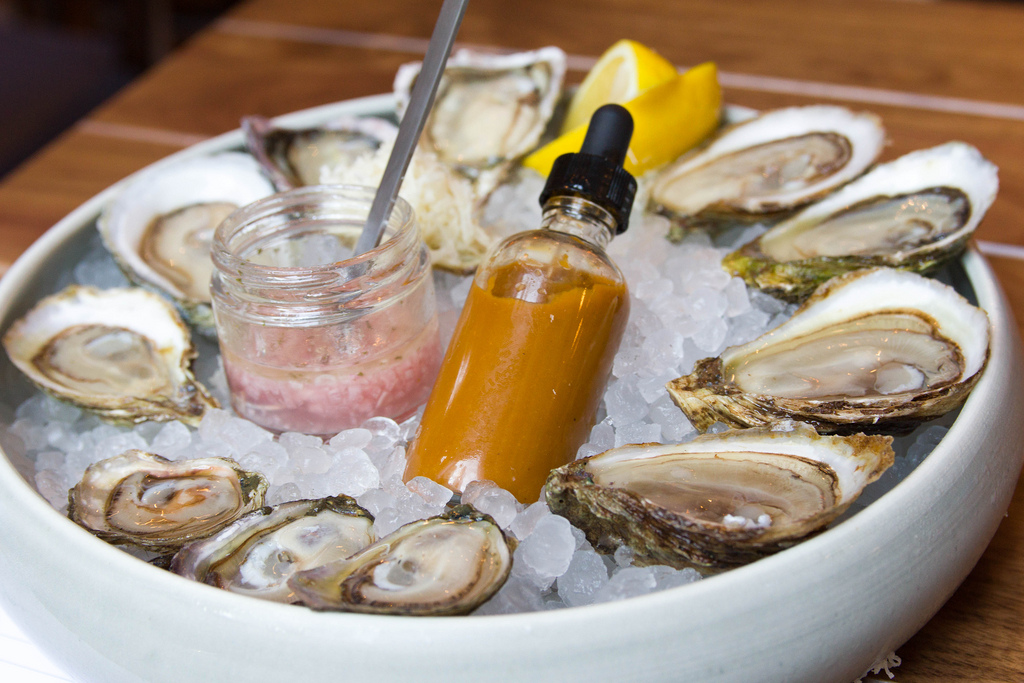 Mignonette Sauce for Raw Oysters
Raw oysters are delicate, wonderful, and a real treat. A mignonette sauce for raw oysters works to pair the oysters natural briny ocean flavor with the refreshing and bright shallot/vinegar sauce. The beautiful mignonette sauce is seen above on the left.
A classical preparation is one made with minced shallots, vinegar, and cracked pepper. The play on the different flavors, make this a great way to enjoy raw oysters. Though there are many variations with different types of vinegars, minced shallots and cracked pepper is almost always the constant. Here's our take on the classic: Mignonette Sauce for Raw Oysters.
Ingredients
1/2 cup minced shallots (about 2 1/2 ounces)
1/4 cup white vinegar
1/4 cup rice vinegar
1 1/4 teaspoon of finely crushed peppercorns (do not use pre-ground or powdered white pepper)
Directions
1. Peel and coarsely chop the shallots. Put them into a food processor and pulse a few times, until the shallots are finely minced, but not mush, with pieces no smaller than the tip of a match. You can also finely mince by hand if you wish. The advantage of using a food processor is that the food processor bowl captures all of the liquid released by the shallots as they are minced, which will enhance the flavor of the mignonette.
2. Place the minced shallots and any liquid released from them in a non-reactive (glass or pyrex) bowl. Add the white vinegar and rice vinegar. Stir with a fork. Add the freshly crushed white pepper. Stir with a fork. If you would like it a little sweeter or saltier, add a dash of sugar or salt, to taste.
3. Cover with plastic wrap and chill in the refrigerator for a minimum of four hours. For best results, store for at least 2 days before using. The mignonette flavor will be better blended the longer it sits. You may notice that the crushed peppercorns may sink to the bottom of the bowl as the mignonette rests. If you see this, just give it a little stir before spooning over your oysters.
The mignonette will last up to a month in the refrigerator.
photo credit: Renée S. Suen via photopin cc
Comments
comments