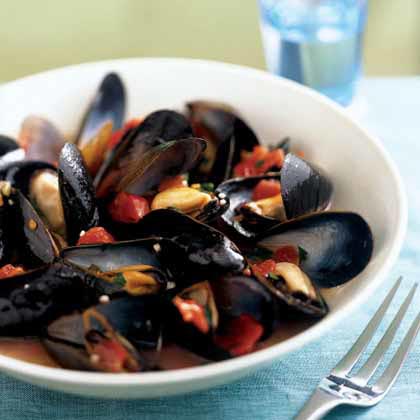 Mussels in Tomato Wine Broth
Mussels in tomato wine broth is super delicious and easy too! There is nothing like the tasty goodness of mussels cooked in a tasty broth. You know the kind. The kind that's so good, that you use every piece of bread you can find to sop it all up.
The key to preparing perfect mussels is to not over-cook them. Once the mussels in tomato – wine broth begin to open, you're done. They'll continue to cook in the bowl even, so be sure to not braise them too long in the broth.
Ingredients:
– 2 teaspoons olive oil
– 2 teaspoons bottled minced garlic
– 1/4 cup dry white wine
– 1 teaspoon fresh lemon juice
– 1/4 teaspoon crushed red pepper
– 1 (14.5-ounce) can stewed tomatoes, undrained and chopped
– 1 (8-ounce) bottle clam juice
– 2 pounds small mussels, scrubbed and debearded
– 2 tablespoons chopped fresh flat-leaf parsley
1. Heat Dutch Oven on Medium Heat, then add Olive Oil
Place dutch oven, or large stock pot, on burner and turn on medium heat. Once the dutch oven or pot is hot, add your olive oil.
2. Add Garlic and Saute for 1 Minute
Add garlic to the hot dutch oven, or pot, and saute for only a minute or so. Any more than that will overcook your garlic and turn it bitter.
3. Add Wine, Lemon Juice, Pepper, Tomatoes and Clam Juice
Add wine, lemon juice, pepper, tomatoes and clam juice. Bring the broth to a boil.
4. Add Mussels, Cover, and Simmer.
Add the scrubbed and debearded mussels to the broth and cover. Reduce the heat on the burner, so the broth comes to a simmer. Simmer the mussels for 5 minutes, or until the shells open. Don't leave them in there too long though, or you'll end up with raisin-like mussels.
5. Remove from Heat and Serve
Once the mussels have opened, remove the dutch oven, or pot, from the heat. Stir in the parsley, and serve in a big bowl for everyone to enjoy.
To make this even better, be sure to serve this with a fresh french baguette. Nothing like some great bread sop up all the brothy goodness.
So how did yours turn out? Please be sure to let me know how your creation turned out and/or what your general experiences have been with cooking squid.
Comments
comments